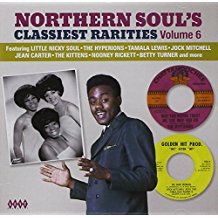 VARIOUS ARTISTS - NORTHERN SOUL'S CLASSIEST RARITIES Vol 6 (KENT CD) Sealed Condition
High-Quality dance records from across the Northern Soul spectrum - floor fillers, chin-strokers, the esoteric and the sometimes obvious.
Tracks by Tamla Lewis, Johnnie Taylor, Betty Everett, Kittens, Maxine Brown, Jackie Day.
Including previously un-issued tracks by the Fidels and The Magnificents.