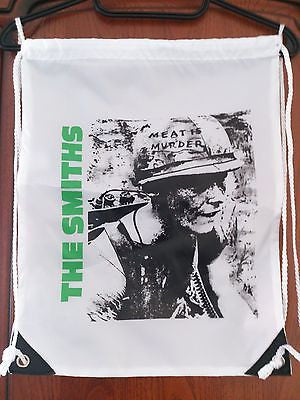 MEAT IS MURDER - THE SMITHS - DRAW STRING BACKPACK - IDEAL AS SWIMMING BAG
Please Note
I  OFFER A DISCOUNT ON POSTAGE AND PACKING FOR MULTIPLE BUYS - FOR BOTH UK AND OVERSEAS BIDDERS.
I POST OUT ON MONDAY, WEDNESDAY, FRIDAY AND SATURDAY.
New Condition
THE SMITHS - MEAT IS MURDER
DRAW STRING BACKPACK
Reinforced corners with metal eyelets
Strong Nylon cord carry handles
Water-resistant
PLEASE NOTE FROM 1st SEPTEMBER 2014 PURCHASES TO ITALY WILL ONLY BE SENT OUT IF TRACKED - INSURANCE POSTAGE IS PAID BY THE CUSTOMER, THIS IS DUE TO THE HIGH NUMBER OF ITEMS THAT HAVE GONE MISSING - SORRY TO SAY I CAN NO LONGER TRUST ITALIAN CUSTOMERS AND THE ITALIAN POST OFFICE.  EBAY ALWAYS SIDES WITH THE CUSTOMER IF ITEM ISN'T TRACKED, SELLERS ARE TREATED LIKE THE THIEVES BY EBAY IN THIS SITUATION. SORRY TO UPSET THE HONEST ITALIAN, BUT I AM A SMALL BUSINESS AND I CANNOT CARRY THE COST.