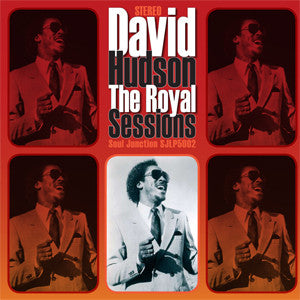 DAVID HUDSON - THE ROYAL SESSIONS (SOUL JUNCTION) Vinyl Mint Sleeve VG+
David Hudson has always been held in very high regard for the excellent southern soul releases which he recorded for the Alston and Waylo labels respectively.
It was during his time with Waylo that David was placed under the auspicious of producer Willie "Pops" Mitchell at his Royal Sound Studios In Memphis. Under Willie's guidance, David recorded his excellent 1987 album "Nite And Day" of which 3 tracks would later gain a 45 release.
A further album project was planned but before it could be completed the Waylo label had decided to pull out of the Royal Sound Studios, thus leaving the project uncompleted.
A total of eight tracks (with a long and short version of one of the songs) had been laid down but were left to gather dust in the vaults. That is until now, so after over 20 years of anonymity you finally have before you David Hudson's forgotten "Royal Sound Sessions".