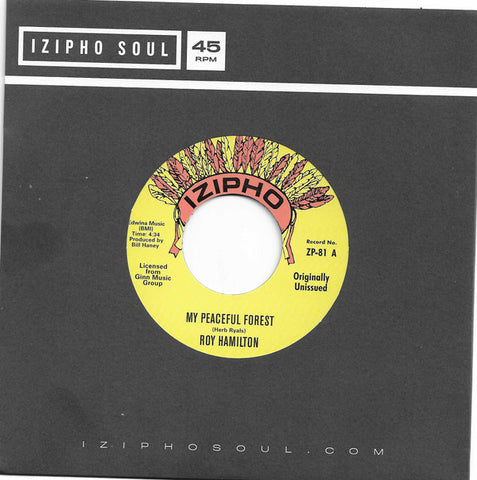 ROY HAMILTON - MY PEACEFUL FOREST/CHARLIE THOMAS - DON'T LET ME KNOW (MINT CONDITION)
Two amazing originally unissued Kent Soul discoveries that were featured on their Bill Haney's Atlanta Soul Brotherhood CD from 1998.
The late great Bill Haney, unacknowledged genius of Southern Soul and owner of the revered Chant record label was interviewed by Rod Dearlove and published in Voices From The Shadows. It was recalled that Roy Hamilton came to town to work the clubs, Bill had the dramatic song 'My Peaceful Forest', and somehow got the 'The Golden Voice' to record it - what an epic production it turned out to be!
Similarly, The Drifter's Charlie Thomas whilst in town to perform got to record 'Don't Let Me Know', the recording comes in at just over two minutes, IZIPHO have had an extended version cleared for this 7" release.